With the popularity of social media and the fact that the "Internet life" has become a part of our daily routine, the profile photo has become a person's second face. Is it really that important? Can we say that a person on the web without an avatar is like in real life without a face?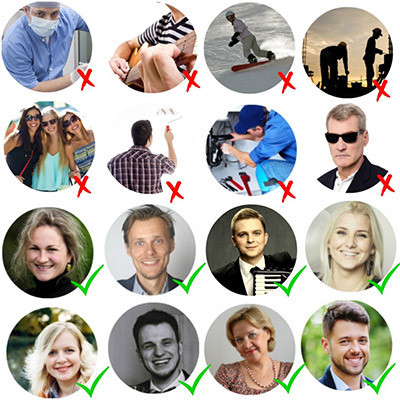 People registered on the Services24.es portal are those who want to work and earn, sell and promote their activities. Among the many competitors, you need to stand out and attract attention to yourself in the search results. Therefore, a profile photo is very important to make a good first impression.
In the modern world people no longer want to read long texts and hope to quickly find what they are looking for, so it is important to transmit as much information as possible using an image. Your customers really want to know who they are communicating with and who they are buying services from.
First of all, you need to answer these two questions: do I want to attract attention to myself and what impression do I expect? Probably the majority of service providers registered on Services24.es expect to get more clients using the portal, and to do this, first of all, you need to create an image of a reliable person.
Your profile picture on the Services24.es portal should first reflect you as a professional who knows his job. Your own photo of good quality and in a neat working environment is best suited for this. Do not upload photos that do not belong to you, photos that do not show your face, photos where you look tired or are among other people.
Therefore, if you don't have a profile photo yet, be sure to take care of it and pay special attention to it.
The Photofeeler company conducted a survey and found out what is most important for a good profile photo:
eyes not covered with sunglasses

a smile

formal clothing

person shown not in full height, but only top part

good photo quality
The image above shows examples of inappropriate photos from the Internet and several examples of correct photos from service providers on Services24.es. You really can tell the difference between them, don't you? And which service provider would you choose?
When choosing a profile photo, you should consider whether the client will believe that you are the one they are looking for: an honest reliable high-quality service performer, who is pleasant to communicate with.